The story below of "Many Hundreds" being sick hit the airwaves around 2pm central time. You can see from the chart above the impact it had on stock prices – they sold off in a big way going into the close.
"Many Hundreds" of Students May Have Swine Flu
We are not trying to test all students, says Health Commissioner Thomas Frieden
By MELISSA RUSSO and MICHAEL CLANCY
Updated 3:32 PM EDT, Tue, Apr 28, 2009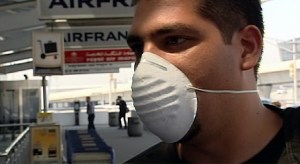 Luis Mendez said New Yorkers hoping to travel to Mexico shouldn't fear the swine flu.
"Many hundreds" of school children are sick with suspected swine flu, the city health commissioner said today as city officials announced that two more schools are now being probed for possible outbreaks. Separately, two New Yorkers have also been hospitalized with the illness.
Watch Video
There are now 50 confirmed cases of swine flu — 28 in New York City — but those numbers could soon rise.
Community Taking Precautions as Flu Spreads
Watch Video
A local student diagnosed with the Swine Flu said she's already recovering, but added that the school still wants her to stay home all week.
New Yorkers Offer Mixed Opinions on Mexico Travel
Watch Video
Travel officials said they're seeing some changes in flight plans by those afraid to risk getting sick in Mexico.
"Many hundreds of students were ill with symptoms that were most likely swine flu," said Health Commissioner Thomas Frieden. "We are not trying to test all students."
In addition to the confirmed cases St. Francis Preparatory School in Queens, there are new cases being probed at PS 177, a school for autistic children in Queens as well as at Ascension, a parochial school in Manhattan, Frieden said. PS 177 has been closed and authorities are deciding whether to close the private school on 108th Street in the Upper West Side. Tests on the PS 177 students should be back tomorrow.
Outside of the schools, two people have been hospitalized with suspected swine flu, Mayor Bloomberg said. A two-year-old boy in the Bronx and a woman in Queens are both recovering from their illnesses, he said. If they are found to be confirmed swine flu cases, it would be the first in the U.S. connected to the outbreak.
"We'd be surprised if we didn't see more cases," said Bloomberg. Hundreds of people have mild symptoms and we could test them all and "we shouldn't be surprised if they all come back positive," the mayor added.
The city announced the latest developments as the Centers for Disease Control said the number of confirmed swine flu cases in New York City has risen to 45. Those new cases were all students at St. Francis Prep, cases that were labeled "probable cases" yesterday, the mayor said.
Health officials in New Jersey said they believe they have five probable cases of swine flu in people who recently traveled to Mexico and California. Those affected have mild forms of the flu and none has been hospitalized, according to the New Jersey Department of Health and Senior Services.
The patients include residents of several counties, but officials have not released specific locations. Four recently traveled to Mexico; the fifth had traveled to California.
A local student sickened by the swine flu said she's already recovering, but added that officials there asked her to stay home from school the rest of the week as they clean the building and try to keep her classmates from getting ill.
"The first symptom was a cough and nausea, and then I just started getting really bad headaches," said Sophia Goumako, a senior at St. Francis Prep School, which re-opens on Wednesday.
Classmate George Koutsothanasis walked near the building today as he awaited his test results for swine flu. He started feeling symptoms last Thursday, including "fever, chills, and headache."
"After the fever I started sweating and my throat still kinda hurts and my headache hasn't gone away either," Koutsothanasis said. "My doctor prescribed me with Tamiflu not even 24 hours after the symptoms, so that's really helped me a lot. So no matter what kind of flu it is, I think I'll be fine."